Do not turn off the power while the machine is in operation. To turn the power off, confirm that the operation is finished.

Do not hold down the main power switch while turning off the main power. Doing so forcibly turns off the machine's power and may damage the hard disk or memory and cause malfunctions.

Do not press the main power switch soon after pressing the main power switch on the machine. When you turn the power on or off, wait at least 10 seconds after confirming that the main power indicator on the control panel has turned on or off.

Open the cover of the main power switch, and push the main power switch.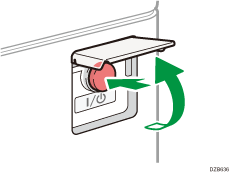 The main power indicator on the right side of the control panel turns off. The main power turns off automatically after the machine has shut down properly.